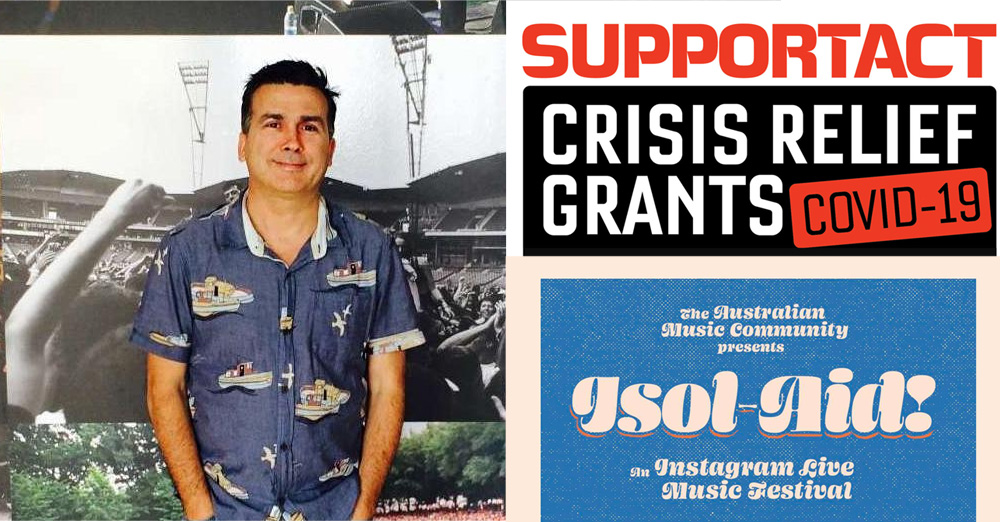 The National Live Music Awards (NLMAs) are today thrilled to reveal more details about next week's live stream, set to take place at nlmas.com.au from 8.30pm AEDT thanks to Dailymotion.
The night is set to bestow five "Special Achievement Award" recipients – individuals – as well as the MMAD (Musicians Making a Difference (MMAD) Live Award winner, whose nominees were revealed last week.
These special achievement awards have been voted on by the Board of the National Live Music Awards, to recognise individuals, organisations and initiatives that went above and beyond during the first six months of the Covid-19 pandemic, helping buoy the live music sector.
Today the NLMAs are thrilled to announce the first three of the five winners, with the remaining winners set to be revealed on the night.
The first is an organisation which has been instrumental in making sure funds get to the people who need them most in our sector, both pre- and post- pandemic: Support Act.
CEO of Support Act, Clive Miller, said this of his win, "We are humbled and honoured to receive this. This award really will provide us with the continued motivation to provide ongoing support to our colleagues across all genres of music, who have been impacted by the pandemic, and have lost their income and livelihoods. Like you, we can't wait until live music is back again."
Second, they were one of the first completely digital festivals to kick off when the pandemic hit, and this weekend will be holding their 31st event, all designed to support artists around Australia and the world – Isol-Aid.
On the award win, the project's co-founder Emily Ulman had this to say, "I am thrilled, overwhelmed and humbled. It's so nice to be recognised by peers. Really this award belongs to the artists who performed, and their teams who have helped week after week put it all together… and of course the audiences for tuning in."
And finally, an award will be presented on Tuesday to Stephen Wade, for setting up the Australian Live Music Business Council (ALMBC).
Stephen said this of his work with the ALMBC, "I love this industry, it's all I've ever known, and seeing it in its worst, and the people who make their living from it at their worst, the thought that this organisation gave us a little bit of hope and a place to belong, has been one of the highlights of my year."
Who else will take home a Special Achievement Award? You'll have to wait until the awards to find out. It all kicks off at 8.30pm AEDT on Tuesday, 20th October 2020 at nlmas.com.au.
Free & VIP tickets are available now at nlmas.oztix.com.au.
The award stream will feature performances from The Beamish Brothers, ARIA award winner Tyrone Noonan in a special tribute to Grant McLennan, ARIA nominee Grace Barbe, Caitlin Harnett & The Pony Boys, Slag Queens and ARIA nominee Sampa The Great, plus appearances by Mo'Ju, Jane Gazzo, Children Collide, RACKETT, The Lazys (direct from Canada) and many more!
At the physical event at The Triffid in Brisbane, guests look forward to live, in-person performances from The Beamish Brothers, Buttercats, Canada's Emily Coulston, Tyrone Noonan, and a very special surprise International guest. The night will be hosted by local legend Branko Cosic (Tape/Off & 4ZZZ).
Tickets are invite-only, but a strictly limited number of tickets are being made available by the artists directly. You can contact nlmas@heathmedia.com.au for more details, or reach out to the artists performing.
Unofficial events are also going to pop up around the country on the night, with Jive in Adelaide set to showcase live sets from nominees Bromham and My Cherie alongside the stream. In Perth, The Bird will be hosting a special viewing party, completely free. And Sideway in Canberra will also be hosting a party with live performances from Kirklandd and Hope Wilkins.
Unofficial Events will be listed at facebook.com/nlmas20/events