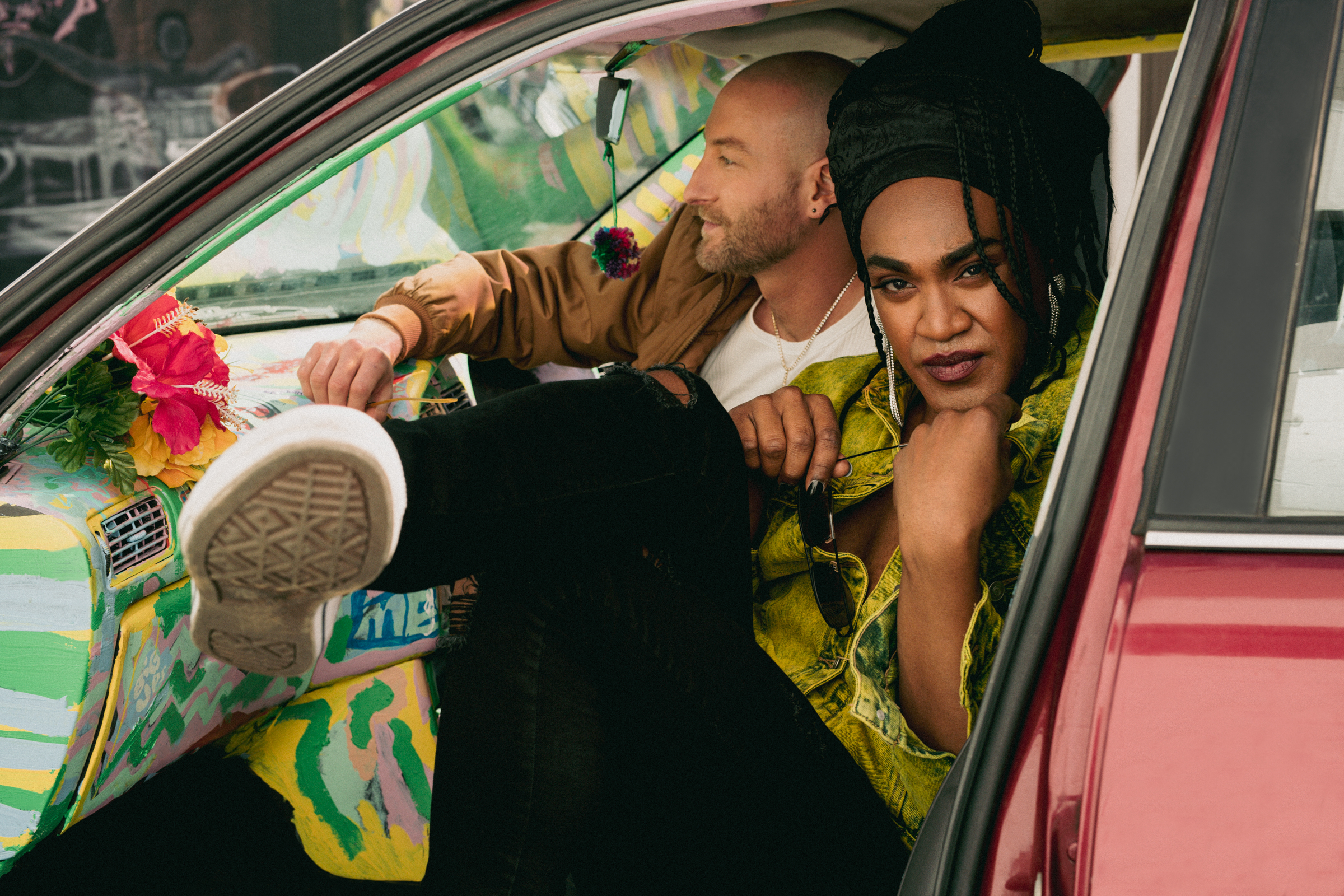 After a two year break due to the pandemic, the National Live Music Awards (NLMAs) returned for their 6th annual event tonight, with over 60 awards handed out at eight events held simultaneously across the country – one in every state and territory.
The big winners of the night were Victoria's Amyl and the Sniffers, and the ACT's Genesis Owusu, both taking home three wins a-piece. 
Amyl and the Sniffers nabbed the biggest award of the night Live Act of the Year, as well as Best Live Act in VIC presented by SYN, and Best Punk/Hardcore Act presented by HEAVY – winning every award they were nominated for!
Genesis Owusu claimed Best Stage and Lighting Design presented by Novatech with Alex McCoy and Pat Santamaria, plus Best Hip Hop Act, and Best Live Act in ACT presented by BMA.

With both acts kicking off international tours, Amyl sent friends to collect their awards in Brisbane, while Genesis had family collect in Canberra. Genesis Owusu had this to say about his wins:

"Thank you very very much for bestowing me with these great honours… It's a great honour to have my name attached to these (awards). I don't think there's anything in this world I put more work into than the live show. My knees will never be the same. These shins. My Voice. Spending hours and hours conceptualizing narratives with people like Pat and Alex just for this crazy and unexplainable goal of being able to create a new world on stage. It takes a lot of my mental and physical energy. So thank you for recognising it and giving it more of a platform. I truly appreciate it."
Baker Boy is this year's winner of the Musicians Making a Difference (MMAD) Live Award, which debuted at the NLMA's 2020 event. He was recognised for his work in celebrating the Yolngu language through music and connecting First Nations young people in remote communities to their potential. Baker Boy is no stranger to the NLMA stage, having previously won multiple awards, including Best Hip Hop Act and Best Live Act in NT.
On his win, Baker Boy said: "This award is so special to me – Making a difference is why I do what I do. Baker Boy is all about showing the next generation what they are capable of through celebrating my culture in the mainstream and sharing the importance of keeping Indigenous Languages alive."
As was revealed at BIGSOUND, the event's Hall of Fame this year expanded to industry, with Frontier Touring's Susan Heymann inducted as the inaugural industry Live Legend at the event at Sydney's The Great Club, presented by Sounds Australia's Esti Zilber. 
Yothu Yindi were also Live Legend recipients, honouring their long-standing contribution to the Australian and international music scene.
Dark Mofo, who have previously won six NLMAs, took home another two tonight for Best Live Event in Tasmania, presented by Oztix, and Live Event of the Year in the national categories, presented by The Music.
Taking out the hat trick for Best Live Voice was Zaachariaha Fielding (Electric Fields), with a follow-up win to the 2019 and 2020 awards.
This marks the eighth award for Electric Fields – making them the most awarded artists in the history of the awards – and tying with Dark Mofo for the most wins overall, as both continue to make history at the NLMAs. 
Camp Cope's Kelly-Dawn Hellmrich also enjoyed a second win this evening with Live Bassist of the Year, after first winning the award back in 2017.   
Queensland's Ball Park Music took home two trophies, scoring Best Indie/Rock/Alternative Act and the public voted Best Live Act in QLD. They last won a NLMA in 2016 when they were named Best Live Act in the Public Voted award of that year. 
Former recipients Mojo's Bar (Best Live Venue in WA) and WOMADelaide (Best Live Event in SA) graced the winner's circle once more, as did Luca Brasi, tonight's winner of the public voted Best Live Act in TAS.
First time winners in the national categories included Tashi Hall, who was named Best Live Photographer presented by beehive, RÜFÜS DU SOL who were named best DJ/Electronic act, Party Dozen's Kirsty Tickle who took home Best Live Instrumentalist for her incredible Saxophone prowess, the Tasmanian Symphony Orchestra for Best Classical, and C.O.F.F.I.N who were named Best Hard Rock/Metal Act presented by HEAVY. 
The annual industry award "The NLMA", which had previously been a national trophy that was awarded to the likes of Sounds Australia, Girls Rock! Australia and Leanne De Souza, this year moved to a State/Territory accolade voted on by the 100 national jurors. The winners were Ruth O'Brien (ACT), Vyvienne Alba (NSW), Isobella Caruso (SA), Asher Gregory (NT), Joc Curran (QLD), Kelsie Miller (WA), Sam Dowson (TAS) and Allison Watters (VIC).

Founder of the National Live Music Awards, Larry Heath, said of tonight's event, "We were so thrilled to bring the awards back tonight after two years away, and what an amazing opportunity to celebrate all the hard work of the world's best live music industry through all the trials and tribulations of those years. As costs of touring continue to rise, as do the pressures of touring on artists, it couldn't have come at a more relevant time."

"On behalf of myself, and the entire National Live Music Awards board, congratulations to all the winners and thank you to all who came out to enjoy the evening, as well as the 19 artists who performed around the country tonight. What a bunch of legends!"
Live performances at the NLMAs around the country included ARCHIE, Bad Lunar, Melody Pool, Chloe Dadd, Carla Lippis & Mondo Psycho, The Empty Threats, Grace Chia, Siobhan Cotchin, and many more. You can see the full lists of performances at https://www.nlmas.com.au/
One performance that wasn't announced was nominee Josh Pyke, who popped up to surprise the attendees and perform a couple of songs during the awards in Sydney. 
Visit the social accounts @nlmas23 on Facebook, Twitter and Instagram to see content from all the events, and peak the full list of winners below. 
Here's the full list of winners:
2023 Live Legend Inductees
Yothu Yindi
Susan Heymann
Live Act of the Year
Amyl and the Sniffers
MMAD Live Award
Presented by MMAD
Baker Boy
Live Voice of the Year
Zaachariaha Fielding (Electric Fields)
Live Guitarist of the Year
Joey Walker (King Gizzard and the Lizard Wizard)
Live Bassist of the Year
Kelly-Dawn Hellmrich (Camp Cope)
Live Drummer of the Year
aka "The Sheddy"
G Flip
Live Instrumentalist of the Year
Kirsty Tickle (Party Dozen)
Live Event of the Year
Dark Mofo
Live Photographer of the Year
Presented by Beehive
Tashi Hall
Live Journalist of the Year
Sosefina Fuamoli
International Tour of the Year
Presented by Live Event Logistics
Nick Cave and Warren Ellis – Supersonic
Best Stage and Lighting Design
Presented by Novatech
Alex McCoy and Pat Santamaria – Genesis Owusu
GENRE AWARDS:
Best Punk/Hardcore Act
Presented by Heavy
Amyl and the Sniffers
Best Hard Rock/Metal Act
Presented by Heavy
C.O.F.F.I.N
Best Indie/Rock/Alternative Act
Ball Park Music
Best Hip Hop Act
Genesis Owusu
Best Electronic/DJ Act
RÜFÜS DU SOL
Best Pop Act
Thelma Plum
Best Folk Act
Emily Wurramara
Best Blues & Roots Act
The Teskey Brothers
Best Country Act
Caitlin Harnett & The Pony Boys
Best R&B/Soul Act
Mo'Ju
Best Classical Act
Tasmanian Symphony Orchestra
Best Jazz Act
Hiatus Kaiyote
STATE/TERRITORY AWARDS:
ACT
Best Live Act in the ACT
Presented by BMA
Genesis Owusu

Best Live Voice in the ACT
Cormac McKahey (Sonic Reducer)
Best Live Venue in the ACT
The Basement

Best Live Event in the ACT
Presented by Oztix
Loading Zone – Sideway
The ACT NLMA
Ruth O'Brien
NSW
Best Live Act in NSW
Presented by 2SER
DMA's
Best Live Voice in NSW
Vera Blue
Best Live Venue in NSW
The Enmore Theatre

Best Live Event in NSW
Presented by Oztix
Mardi Gras Fair Day
The NSW NLMA
Vyvienne Alba
SA
Best Live Act in SA
Presented by City of Adelaide
The Empty Threats
Best Live Voice in SA
Carla Lippis
Best Live Venue in SA
The Gov
Best Live Event in SA
Presented by Oztix
WOMADelaide
THE SA NLMA
Isobella Caruso
NT
Best Live Act in NT
King Stingray
Best Live Voice in NT
Katanga Junior
Best Live Venue in NT
Darwin Railway Club
Best Live Event in NT
Presented by Oztix
Darwin Festival
The NT NLMA
Asher Gregory
QLD
Best Live Act in QLD
Presented by 4ZZZ
Ball Park Music

Best Live Voice in QLD
Katie Noonan
Best Live Venue in QLD
Presented by Red Octopus
The Tivoli
Best Live Event in QLD
Presented by Oztix
Woodford Folk Festival
The QLD NLMA
Joc Curran
VIC
Best Live Act in VIC
Presented by SYN
Amyl and the Sniffers
Best Live Voice in VIC
Presented by Music Victoria
Julia Jacklin
Best Live Venue in VIC
The Forum
Best Live Event in VIC
Presented by Oztix
Meredith Music Festival
The VIC NLMA
Allison Watters
TAS
Best Live Act in TAS
Presented by City of Hobart
Luca Brasi
Best Live Voice in TAS
Presented by Simple
Claire Anne Taylor
Best Live Venue in TAS
Presented by Edge Radio
The Odeon Theatre
Best Live Event in TAS
Presented by Oztix
Dark Mofo
The TAS NLMA
Sam Dowson
WA
Best Live Act in WA
Presented by RTR FM
Alter Boy

Best Live Voice in WA
Carla Geneve
Best Live Venue in WA
Mojos Bar
Best Live Event in WA
Presented by Oztix
Nannup Music Festival
The WA NLMA
Kelsie Miller