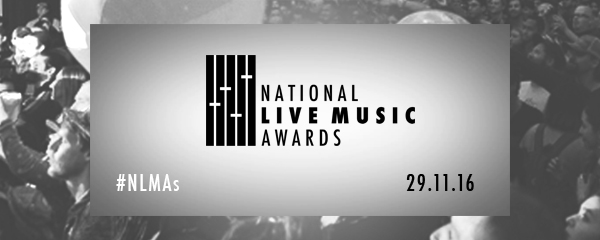 Tickets are now available for the National Live Music Awards (NLMAs), which will be held nation-wide across 8 venues on Tuesday, 29th November 2016. The National Live Music Awards will be a night to celebration Australia's diverse contemporary live music industry.
Tickets to all events will be free via RSVP, excluding the Sydney gala at The Basement, where General Admission tickets are $39. $5 from each Sydney ticket sold will be donated to the charity Support Act.
If you don't RSVP, it will be $5 on the door with all proceeds also going to Support Act. Support Act was established to help artists and music workers of all kinds: singers, songwriters, composers, musicians, roadies, techies, managers, staffers and others. They treat every request for help confidentially and make no judgement about people's circumstances. To find out more about Support Act and how you can support please visit www.supportact.org.au.
RSVPs to all free events and Ticket Sales to the Sydney gala open through the NLMAs' official ticketing partner Moshtix on 9am Tuesday 25th October.
Tickets are available here: https://www.nlmas.com.au/tickets/
All free events will award their respective State/Territory winners, and have live performances from nominees and surprise guests and DJ sets through the night. Meanwhile, the Sydney gala will present some 23 awards, with special guests throughout the night and a series of surprise and scheduled live performances.
Performance line ups for all events to be revealed in November. Public voting for the two special People's Choice categories opens November 1st with prizes to win courtesy of SONOS.
Don't miss your chance to show your support!
More About Support Act:
Support Act is a charity, unique in Australia, helping artists and music workers who are facing hardship due to illness, injury or some other crisis that impacts on their ability to work in music. We help by providing different kinds of support, which include financial relief, advice, and practical assistance. We also contribute to funeral costs and can help raise funds for a nominated person through our online appeals service called Help A Mate. 
More About the NLMAs:
The National Live Music Awards are a broad recognition of Australia's diverse and successful live industry, celebrating the diversity and success of Australian live artists – recognising the best vocal talents and musicians alongside the best venues, tours, festivals and industry professions who help make it all possible.
The awards fill a gap in Australia, which does not currently have an award dedicated to the live performance industry, a side of the industry that definitely deserves the focus. After all, live performance being the most significant revenue stream for many Australian artists, in a country that is among the biggest live music scenes in the world.