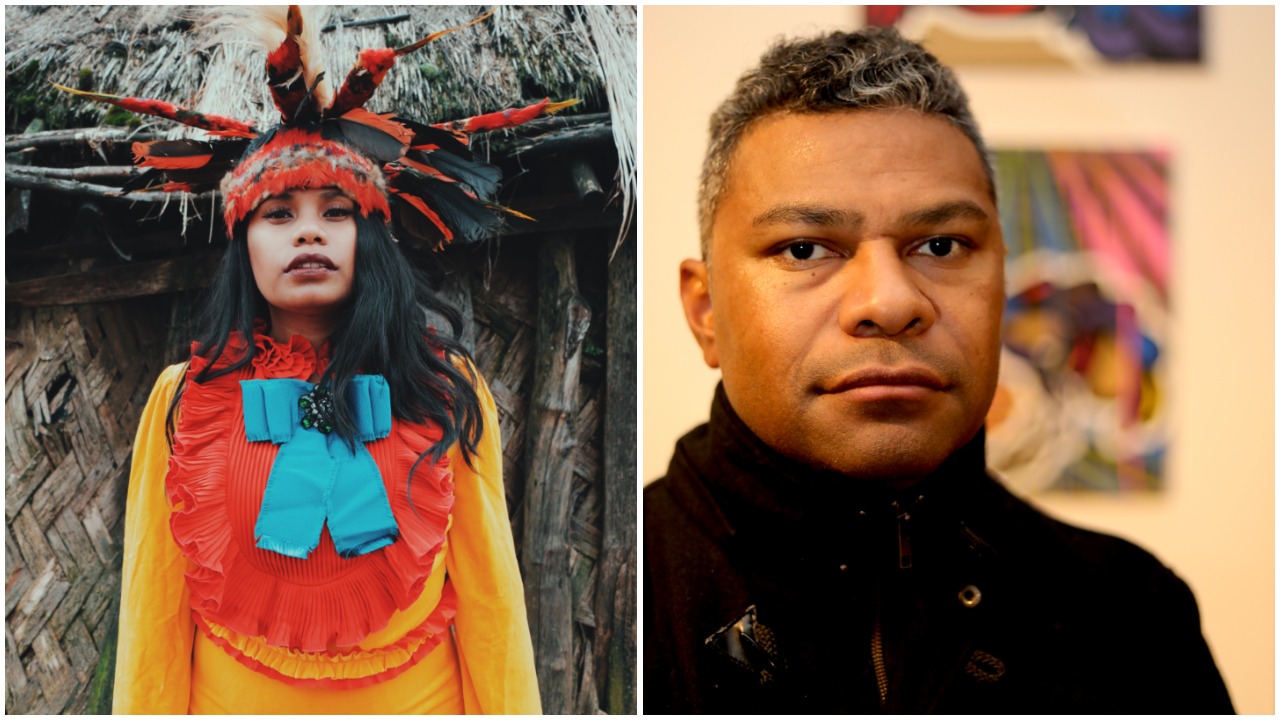 Today the National Live Music Awards is thrilled to welcome two new members to its 10 member Board.
Firstly, Papua New Guinean born Sydney based artist Ngaiire – herself a multiple NLMAs winner over the years – will be bringing her unique voice to the awards, following her long term tenure at the Peggy Glanville-Hicks Composer's House.
Joining her is another ground-breaking, award winning artist, Fred Leone. A Butchulla Songman, his accolades run a mile long, and is the founder of QLD's only Indigenous owned and operated record label Impossible Odds Records.
Ngaiire and Leone join the Awards to fill in the shoes of board members Dallas Frasca and Aeron Clark, who stepped down from their positions this year.
The Board of the NLMAs provide direction for the long term vision of the awards, and help ensure the awards remain inclusive, diverse and representative of the ever changing live music sector.
NLMAs Founder and Director Larry Heath said of the new members, "We are humbled and truly honoured to welcome Ngaiire and Fred Leone to the Board of the National Live Music Awards. Especially in these times of industry turmoil, events like this can't grow and adapt without strong voices to help lead the way – and few come more powerful than these incredible artists. Their input will be invaluable to the future of the Awards."
The National Live Music Awards recently announced that they would be returning for a single event in 2020, set to be held at The Triffid in Brisbane on 20th October 2020 – coinciding with the opening of BIGSOUND. While the event will not be open to the public, it will be live streamed around the country.
The night is set to celebrate live music promoters and journalists for the first time, as well as acknowledge the successes of the industry during the hardship of the pandemic, as well as the preceding bushfire crisis, with a number of special achievement awards.
A number of awards will be public voted, with voting set to commence on September 8th.
The full list of board members of the NLMAs is:
Andrew Tuttle (APRA AMCOS, QLD)
Damian Cunningham (Elastic Entertainment, VIC)
Fred Leone (Butchulla Song Man, QLD)
Katie Noonan (Musician, QLD)
Mark Smith (MusicNT, NT)
Michelle Padovan (Coolin' By Sound, QLD)
Mike Harris (WAM, WA)
Ngaiire (Musician, NSW)
Ruth O'Brien (Artist & Disability Advocate, ACT)
Sian Walden (Little Acorn Music, SA)
ABOUT NGAIIRE 
Papua New Guinean born Sydney based artist Ngaiire has performed at Glastonbury to Splendour In the Grass as well as opening and performing with Alicia Keys, John Legend, Sufjan Stevens, Leon Bridges, Flume and Hiatus Kaiyote .Comfortable in the contemporary scene Ngaiire is also a keen experimental vocalist working on shows with the acclaimed Australian Art Orchestra as well as her first ever vocal sound installation with sound design artist Chris Townend at MONA from 2013-2017. Ngaiire has also been commissioned twice by Broome's Marrugeku Dance Theatre for their productions – Cut the Sky (2015) and Le Dernier Appel (2018). More recently she was invited to collaborate with African American contemporary artist and sculptor Nick Cave.
Winning the Australian Women In Music Award (2018) for 'Artistic Excellence' Ngaiire is recognised as one of the most distinct voices in Australian Music. She also won the National Live Music Awards and AU Review Awards for 'Best Live Vocalist in Australia', 'Female Artist of the Year' in 2016 and the R&B or Soul Live Act of the Year NLMA award for both 2016 and 2017. She's also received a Fbi Radio SMAC Award for 'Best Live Performer' with her single 'Once' appearing at #76 on Triple J's Hottest 100 (2016).
Completing her long term tenure at the Peggy Glanville-Hicks Composer's House as its 2019's artist residence in Sydney, Ngaiire is about to release her much anticipated third album later this year.
ABOUT FRED LEONE
Fred Leone is a well-respected community leader, with strong Australian Aboriginal, Tongan and South-Sea Islander heritage. Fred and his family come from the Garawa and Butchulla Tribes.Fred is one of the Butchulla Songmen, a language custodian, and a ground-
breaking, award winning artist who works across genres and mediums to bring a distinctly original voice to his performances and recordings.Fred is the founder of QLD's only Indigenous owned and operated record label Impossible Odds Records. He has toured as a featured artist with the internationally acclaimed Black Arm Band in Canada, China, Malaysia, Brazil, the UK and Australia
and presented solo theatre works in the UK.
Alongside his artistic output and responsibilities as a Butchulla Songman, Fred is one of Australia's leading arts workers and a tireless champion of Indigenous rights. He was a guest curator and producer of 'Yawar' the largest "Corroboree in South East Queensland in 100 years held at QPAC. He sits on the board of the Australian Live Music Business Council and is a current member of the Indigenous Advisory Group for the National Indigenous Music Awards.
Fred is Project Manager for Wunungu Awara (Monash Uni): Animating Indigenous Knowledges. This is a ground-breaking multi art-form project supporting Indigenous communities in their language preservation using animation and music to illustrate songlines from around the country and reinvigorate interest in traditional language. Fred's latest original music project – Yirinda – is his vehicle to raise awareness of the language and stories of his people.